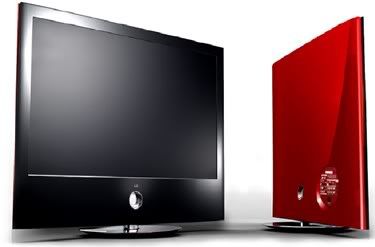 Attendance multiplicity of design and
technology
in the
LCD TV
, electronic market increasingly by providing many options for consumers. Not just the high end technology, the elegant display became the special attraction. And that was carried out by the electronics manufacturer to produce
LCD (Liquid Crystal Display)
, which remains thin and stylishly.

In more competitive market,

LG

still promote the ideal composition between

design and technology

in the newest

LCD TV products

,

LG60FR

appeared so interesting. The elegant

black colors

dominate in the future, and

red color

combination with a side of the drape. Not like other

LCD TV

,

LG60FR LCD TV

was designed with a thickness of only

45mm

, which makes

LG60FR

as the best

LCD TV

in the world at this time. Interestingly, the

power LED

is equipped with

soft touch sensors

. Simply one touch, the sound will be heard as a special effect on power.



LG60FR

in the range

LCD TV 1 MHD (192xl080p)

is able to have

Motion Picture Response Time (MPRT)

, which reached 4ms, with a contrast ratio of

up to 50.000:1

shown to the real color. Meanwhile, the intelligent sensor embedded in the bottom will be able to adjust the image not just in terms of brightness contrasts, but also able to adjust the color automatically, in accordance with the room lighting conditions at the time.



LG60FR LCD TV

has only 3 categories include

AV mode

is often used spectators, it's cinema, sports and games. Other than that,

LG60FR

also provide the invisible speaker which planted in a hidden around the side, so the sound quality produced more spread and clearly. No wonder if

LG60FR

get an

award winning of Best Innovations in Consumer Electronics Show (CES)

in 2008.