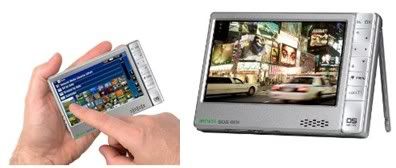 The original
brand of French
,
Archos PMP
released the latest series, namely
Archos 605 WiFi
. In accordance with the function especially to watch the movie,
Archos 605 WiFI
is supplied with 16 million colors on the screen 4.3 inches.
Moreover, the
Archos 605 WiFI
could do direct recording from TV or a digital
camera
, camcorder and a DVD player. Not only that,
Archos 605 WiFI
equipped with touch screen
technology
and WiFi 802.1lg for internet connection. Starting with
30GB up to 160GB hard drive capacity
, it can load up to 200 movies, or 1 million photos. There is also available USB slot version 2.0 compatible with version 1.1.
Archos
then supplied this device with a
Lithium battery
that is
able to play up to 5.5 hours of movies
.
If you are not satisfied with a 4.3 inch screen for watching movies or to see your photos, do not worry, all the movies and photos can be displayed through your Tv screen by using the additional accessories, namely

DVR Station

, you can make the

Archos 605

is a home entertainment system with it, in which, all movie and photo collections in

Archos

can be shown on the Tv, including your browsing.