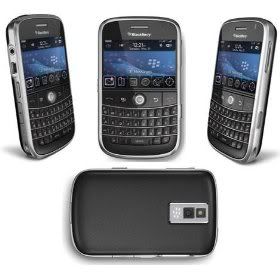 This
BlackBerry Bold
smartphone
comes with a premium design and excellent performance of the
best high-speed network supports triband HSDPA
. Equipped with various sophistication
technology
voice communication, email, messaging, organizer applications and the browser supports and other
mobile phone
applications.
Compared
BlackBerry products
made in the
Canadian company
, Research In Motion (RIM),
BlackBerry Bold series
may be the
most luxurious
. The facilities still offer ease of access email through push email on the
BlackBerry
before. Ease of access other Internet services are also increasingly expanded, such as instant messaging, browser, and supports a variety of mobile applications based on
Java application
.
BlackBerry Bold
is a breakthrough for customers who wants to have the best experience in communication, multimedia and the Internet. With a interesting theme, it appears from the
elegant design of jet black colored
, and
chrome-plated frame with the back of the leather
.
Smartphone
with 114 mm x 66mm x 15 mm dimension, has 136 grams of weight, this also provides a 2 megapixel
camera
, stereo quality sound, including streaming video.

With 624MHz processor, 128 MB of flash memory and 1GB internal memory plus an additional card slot, instant messaging services such as the popular

BlackBerry Messenger, Windows Live Messenger, Google Talk and Yahoo Messenger

to be added value from the device.