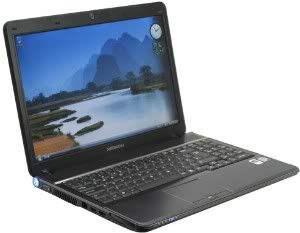 Medion
name may not be too familiar in the ears of the
notebook
consumers.
Medion
is not actually a new player in this field. The name is
well known in Germany
, where the company is located.
Medion product
itself is synonymous with high quality with low price, including this
Akoya S5610
.

When you see the specifications of

Medion Akoya S6510

, the price offered by producers is relatively cheap, there is

Intel Processor

Core 2 Duo P7350 2.0GHz, 3Gb RAM, and 320GB hard disk

capacity, and 15.4 inches wide screen inside the

Medion Akoya S6510

. This specification is sufficient if you intend to use this notebook for work purposes by connected to the internet.

When you see from the design,

Akoya S6510

is actually not too special. From the outside, the appearance looks simple and minimal. Not many accessories appears in front of this

black notebook

, its written

Medion name sharply right in the middle

. Overall, although can not be considered as

'Great'

notebook,

Medion Akoya S6510

is quite good for the same kind of its level.