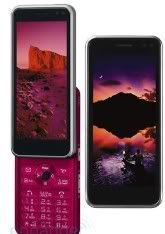 Have you ever hear the
Sharp Aquos Fulltouch 931SH
? yes, this
mobile phone
may have the most interesting screen in the world. This
mobile phone
has same screen resolution as available in
notebook
. Therefore, the
mobile phone normally used to enjoy the favorite movies
. The resolution which offered by new
Aquos Fulltouch 931SH
could overcome the resolution problem. Moreover, with the measurement of 1024 x 480 resolution size with touch-screen
technology
, in a virtual manner has the same resolution as
available in notebook
. Another feature is a 5.2 mega pixels
camera
, equipped with an image stabilizer, you can imagine when it's being printed.

Are you using a mobile phone TV?,

Sharp Aquos Fulltouch 931SH

is the answer, because

Sharp Aquos 931SH

provides the

Tv tuner

, including

browsing facilities, bluetooth, media player, and 3G support

.

Sharp is known as the best mobile phone manufacturer

in terms of contrast, color saturation and pixel density, which can only be a dream product for the other, even in the U.S in fact. Sharp with

Fulltouch 931SH

has proven that it could show the high resolution movies by approaching the resolution which could be offered by notebook.

Unfortunately,

this mobile phone can only be enjoyed in Japan via the operator Softbank

. And I can guess,

Sharp Aquos Fulltouch SH 931

will not be found in any country outside of Japan

. No one, if you or I hope, Sharp will change thoughts in order

Aquos Fulltouch 931SH

could be found all over the world.