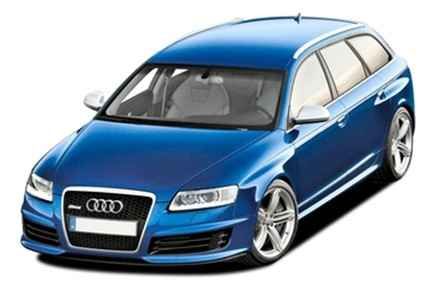 If the buying public hankers for SUVs because they're practical, you should perhaps have a look at an estate such as load carrying capacity to spare, and in a vehicle that doesn't crash the first time it encounters a corner. In
Audi RS 6
guise it even has all wheel drive for goodness sake. And before you start telling me about the safety inherent in in a truck, may I suggest you look at a car that handles instead, and perhaps avoid running into things in the first place, and
Audi RS 6
does handle.The test vehicle, at least the first one, more on that later was equipped with optional ceramic brakes that are so huge that 20 inch wheels are required to fit them in. This means massive tyres too, Pirelli P Zero 275/35ZR20 items, which provide prodigious amounts of grip.

RS 6 was sidelined on the day, except to clear the gravel out of the one that was beached. The tyres were punished but cars just kept on keeping on. And they were fast too. It is unlikely that many owners will treat their expensive RS 6s this way, but the fact that the car can handle it and that it does it so well is a testament to just how far the brand has come from its former rather staid line-up.

RS 6

is something of a pussycat, it doesn't have to be driven hard, and unless you own a small oil-rich state you may want to go gently on the throttle pedal too, but it is happy enough just trundling around. The suspension, with optional sport suspension plus, is adaptive, but on the firm side for road use, even with comfort selected.



The RS 6 is Audi's most powerful road car ever

, with a phenomenal 580 horsepower available. The raw figures tell a big part of the story here, that 580 horsepower and 650Nm pushes the large estate to 100km/h in a scant 4.6 seconds. It will do the 0-200km/h sprint in only 14.9 seconds, which is not much more than an average SUV takes to get to half that speed. And while the top speed is restricted to 250km/h you do have the option of having that lifted to 280km/h.

Realizing that drivers may want to have a little fun in a speedy car, Audi thoughtfully provide a sport setting for the electronic stability control (ESP), which allows the car to slide a little before saving your skin, and softens the cut-in for the traction control too.