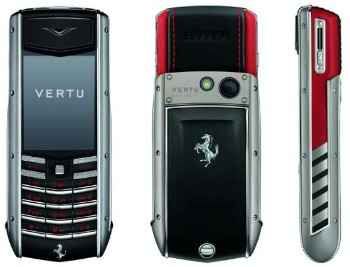 Vertu, maker of incredibly expensive
mobile phone
, has released three new additions to its stable of handcrafted,
Vertu Ascent Ti Ferrari
, branded devices. Reflecting the exclusivity, elegance and performance of the worlds' best supercars, the
Vertu Ascent Ti Ferrari comes in three iconic Ferrari colours
: nero, rosso and gialo or black, red and yellow to the non Tifosi.



Vertu has worked closely with Ferrari

, both the material and design cues from the cars have been integrated seamlessly. The same leather and stitching is used as in the latest Ferrari interiors. The battery cover mirrors the distinctive bonnet detailing and the sides of the handset are sculpted to reflect louvres.

The special edition phones are the definitive automotive-inspired handsets-bold, balanced and with the unmistakable character of the prancing horse.