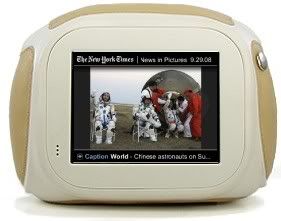 Chumby is an alarm clock with the small size coated with leather. But this is not a regular alarm clock, Chumby has been installed by Linux operating system and many features that are very suitable for digital lifestyle. Some other features that are provided in this tiny gadget is, Wi-Fi, Digital Picture Frames, Internet TV and Radio Player, and Web Information Center. Chumby can present the Internet content without using a computer. Chumby will be very useful for you that frequently access some sites regularly and do not want to have to turn on the computer every time you want to visit the site. Chumby is also able to display news, photos, music, weather, gossip, scores and update the existing sports competition in web site. Chumby has 3.5 inch of screen size and its usage is also very easy because it supports plug n play.

Generally, Chumby can not replace the functions of a PC or laptop for browsing the Internet. However, you still need the actual laptop or PC for its original settings from this gadget. If you are the one who depends on the news is presented in the web format, Chumby will be very practical because you just turn the device and then you are ready to read the latest news that you want.

Specifications are owned by Chumby is pretty good, although it can not be compared with the specifications of netbook or laptop. Chumby use 350MHz processor that supported 64MB of memory installed. To connect with an Internet connection, Chumby uses Wi-Fi 802.11g, which supports to the general security protocol, including WEP, WPA and WPA2 with AES encryption system.

To operate this gadget, you must use a touch screen features because there is no other input system of it. In fact, the touch screen is equipped with the accelerometer, poorly there is a bit problem to display a large image, because Chumby has only 320 x 240 pixels resolution.