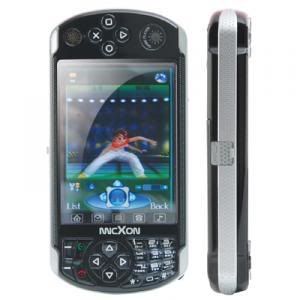 Too small and tiny, so you must be careful when you are typing some letters on the keypad, specially if you have big fingers.
Micxon Mobile Communication Singapore
launched the latest product phone, it is
Micxon GX-200
, often called as a
Game Player Phone
, because it is almost similar with
PlayStation Portable
(PSP), not too different by the averages model in
Chinese product
phone.

Talking about games,

Micxon GX-200

has a collection of games that have been installed. Unfortunately the keypad is difficult to use when sending a short message.

Micxon GX-200

also equipped with TV-Out facility, so it can be connected via cable to the TV, so

GX-200

users can play games through television screen.

Design of

Micxon GX-200 Game Player Phone

is quite big, so it can not be kept in the pocket. After all, I convince this phone is quite popular in Asian market.